Warranty and claim
For several years, experience has shown that very few UMATES bags or backpacks come back. Of course, we offer lifelong warranty on production and material defects and provide 2 years warranty according to the Buying Act, as we know that it is quality products that we produce!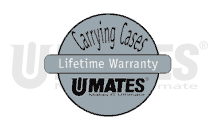 Lifetime guarantee
Experience has shown that very few UMATES computer bags come with errors and come back. This is due, among other things, to our high quality control. We therefore offer a lifetime guarantee against production and material defects.
All UMATES products are developed and designed in Denmark in close cooperation with users and manufacturers of laptops.

RMA - Form
UMATES supplies high quality products and uses the best materials. Therefore, UMATES holds bags and backpacks for many years.
Should a problem arise with your UMATES product because it is defective or because you are missing a spare part, please contact us by filling out the contact form below and you will receive a quick and secure complaint service.
Yours sincerely
UMATES
Contact
You are always welcome to contact us for further questions and information:
Phone: +45 7022 7005