Neopren sleeve 13″
Prod.no. 7-223
Protection for your laptop with Umate's computer cover 13, for transportation or storage. Umates in various sizes for all tablets.
Se komplet produktbeskrivelse
€ 14,00 (ex. tax)
€ 17,50 (inc. VAT)
In stock
Description
Umate's protective jacket is made of durable and washable neoprene, which is a soft and elastic material.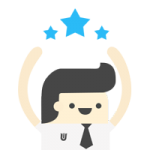 Perfect when the laptop is to be worn internally in the company or stored at home, protecting the computer case from scratches and other dirt.
Neoprene computer cover 13 comes in a variety of sizes and fits most laptops.
Note:
From 500 pieces, Umates can produce Pouch by measure.
Contact us for further information:
Phone: +45 7022 7005
Email: umates@umates.com
Additional information
| | |
| --- | --- |
| Skærmstr. | 10"-13" |
| Materiale | Neoprene, black |
| Materialebeskrivelse | Durable and washable neoprene easy to wipe off dirt |
| Beskyttelse | Protects the computer case from scratches and dirt |
| Brugerfunktionalitet | Easy to carry with handle, perfect for transport or storage |
| Hovedrum | 1 (for laptop) |
| Sidelommer | Two small outer pockets for mice, cables or the like. |
| Garanti | Lifetime warranty on production and material defects, but not on wear and tear or inappropriate use of the product |
| Mål | W30 x H25 cm |
| Vægt | 160 gram |